---
The Why's and When's of Fuel Flow to Load: Establishing a Baseline
Establishing a Baseline Fuel Flow to Load
Often, QA tests that are not conducted quarterly, or even yearly, are sometimes accidentally ignored. However, their low frequency does not mean they are any less important. The fuel flow to load baseline test is one such QA activity. Since long stretches of time may elapse between tests, it is easy to forget just how this test is run. Below is a description of what a fuel flow to load baseline involves, and why it is important.
The fuel flow to load baseline is a necessary because it is a precursor for running quarterly QA tests on the fuel flowmeter. It establishes a "baseline" ratio for fuel flow or heat input to unit load, to which each subsequent quarter compares to. It must be calculated for each flowmeter device whenever it is installed or re-installed. A baseline test is good for 20 calendar quarters, or 5 years. After that, it must be re-established. Data collection begins immediately after the meter has passed its initial QA certification (flowmeter accuracy test and transmitter/transducer/PEI (primary element inspection), if necessary). The baseline needs at least 168 hours of data, and must be completed within four calendar quarters.
The information collected for the baseline includes:
# of hours excluded due to co-firing
# of hours excluded due to ramping
# of hours excluded due to low range (<25% unit load)
If choosing to report fuel flow to load ratio (FFTL):
Average fuel flow rate
Average load
Average flow to load ratio (using equation D-1b in App. D 2.1.7.1)
If choosing to report gross heat rate to load ratio (GHR):
Average hourly heat input rate
Baseline gross heat input (using equation D-1c in App. D 2.1.7.1)

Here is where all this information goes in ECMPS: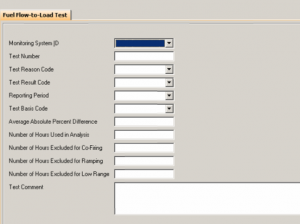 If you have any questions on this test, there is an ECMPS support page on our Resources page that provides additional information.
You can also Contact Us.