---

The Why's and When's of Fuel Flow to Load: FFTL Testing
Quarterly Fuel Flow to Load
Quarterly reporting under Part 75 (EDR's) often requires more than just the standard Linearity Tests and RATA's to maintain compliance. This blog focuses on a fairly simple but easy to overlook test: the fuel flow to load. For every quarter in which a flowmeter accuracy test is not conducted, this test must be run for quality assurance purposes. Compliance can be measured in either a fuel flow to load ratio or gross heat rate (GHR).
Once the baseline fuel flow to load ratio or GHR is established, a fuel flow to load test must be run each subsequent QA operating quarter (>168 hours). This is calculated by comparing the quarter's FFTL ratio with the baseline ratio or the GHR to the reference GHR. The steps are as follows:
1. Calculate hourly fuel flow to load or GHR ratios:


2. Calculate percent difference from baseline ratios:

3. Calculate arithmetic average of all of the hourly percent difference (percent Dh)

The below information is also reported with the fuel flow to load test:
Average difference between FFTL baseline or GHR ref and quarterly FFTL or GHR
# of hours of QA-assured data
# of hours excluded due to co-firing
# of hours excluded due to ramping
# of hours excluded due to low range (<25% unit load)
This is where the information is entered into ECMPS: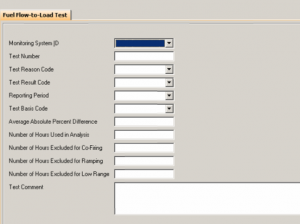 If you have any questions on this test, you can access the ECMPS support page under our resources. You can also Contact Us.