---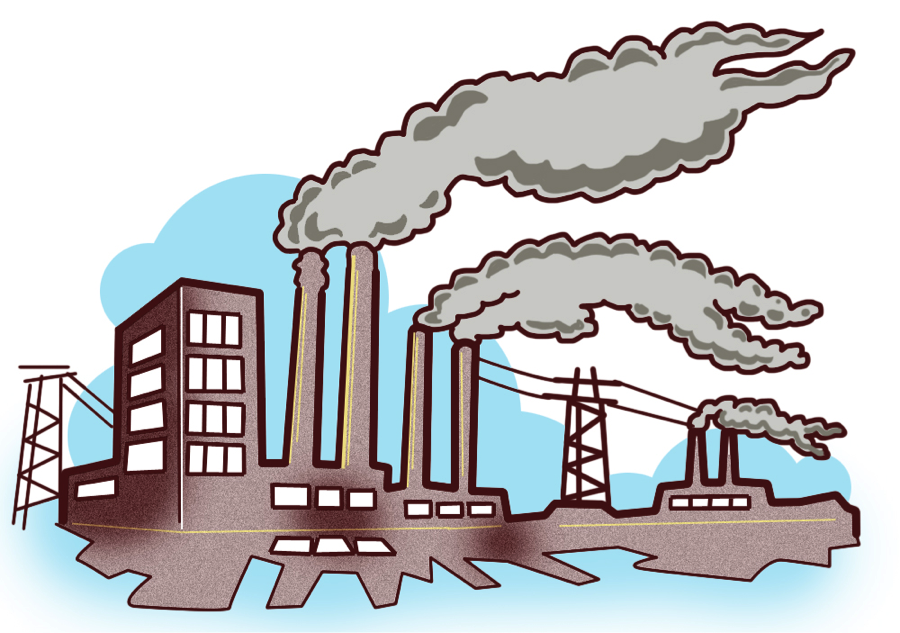 The EPA's Year Ahead in Air Regulations
There are quite a few major regulations and standards that the EPA has on its agenda for 2015. These are all especially relevant to the Region 1 Area. See below for details:
Carbon Pollution Standards for New/Modified/Existing Power Plants
Comment period for these proposed regulations has closed.
Regulation sets a lbs/MWhr rate limit for each state.
States have to meet an interim rate goal by 2020-2029, and a final goal by 2030.
New England states have already expressed interest in using RGGI as a compliance mechanism. In this case, a multi-state rate goal would then take place of an individual state goal.
States have until summer 2016 to submit compliance plans, with an optional 2 year extension for multi-state plans.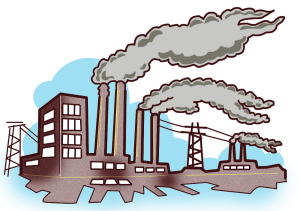 Implementation of 2008 Ozone NAAQS
Effective date of rule was July 20th 2012
1997 Ozone NAAQS revoked (effective April 6th 2015)
D.C. Circuit court decision (December 2014) shortened all attainment dates by 1 year. The revised attainment dates based on classification are as follows:

Marginal: July 20th 2015
Moderate: July 20th 2018
Serious: July 20th 2021
Severe: July 20th 2027
Extreme: July 20th 2023

This means that only data from 2012 to 2014 ozone seasons can be used for showing attainment for marginal areas.
There is a 1-year extension available for attainment if, during the attainment year, the area's 4th highest daily 8-hr maximum was below 0.075 ppm.
EPA will make final ruling on marginal attainment areas by January 20th If states do not meet attainment, they will have 1 year to submit a new SIP.
http://www.epa.gov/groundlevelozone/designations/2008standards/final/finalmap.htm
Cross State Air Pollution Rule (CSAPR)
No more Acid Rain Program, NOx Budget Trading Program, or CAIR allowances
1/1/15-Phase 1 of rule begins
1/1/17-Phase 2 of rule begins
Rule includes separate requirements for annual NOx & SO2 reductions and ozone-season NOx reductions.
States covered under rule: IL, IN, MD, MI, NJ, NY, OH, PA, VA, WV, WI, TX, KY, MO, OK, LA, FL, GA, SC, NC, AL, NE, MN, TN, AR, MS, IA
Good Neighbor SIP's- States under rule could either "demonstrate that its contribution is below screening threshold, or it could evaluate the scope of its transport obligation and indentify measures to achieve any needed emissions reductions." (http://www.epa.gov/airtransport/)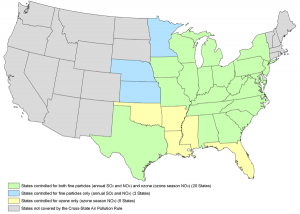 http://www.epa.gov/airtransport/CSAPR/statesmap.html
2012 PM2.5 NAAQS
Primary standard revised to 12 μg/m3 on 12/14/14 (was 15 μg/m3)
12/18/14-Final designations issued by EPA
3/31/15-Additional designations issued
Attainment plans of affected areas due within 18 months of designation
2015 Ozone NAAQS
EPA proposing new ozone standards of 65-70ppmb
Final rule to be issued 10/1/15
Following that schedule, EPA designations would be complete by October 2017
Standards of Performance for New Residential Wood Heaters, New Hydronic heaters and New Forced Air Furnaces
Rule published 3/16/15
Regulates

Adjustable stoves
Single burn-rate stoves
Pellet stoves
Fireplace inserts
Hydronic heaters
Forced air furnaces

Strengthens emissions standards for new wood stoves
Establishes standards for previously unregulated heaters (indoor/outdoor wood-fired boilers, indoor wood-burning forced-air furnaces)
Manufacturing sell-through until 12/31/15
More info:
https://www.federalregister.gov/articles/2015/03/16/2015-03733/standards-of-performance-for-new-residential-wood-heaters-new-residential-hydronic-heaters-and