---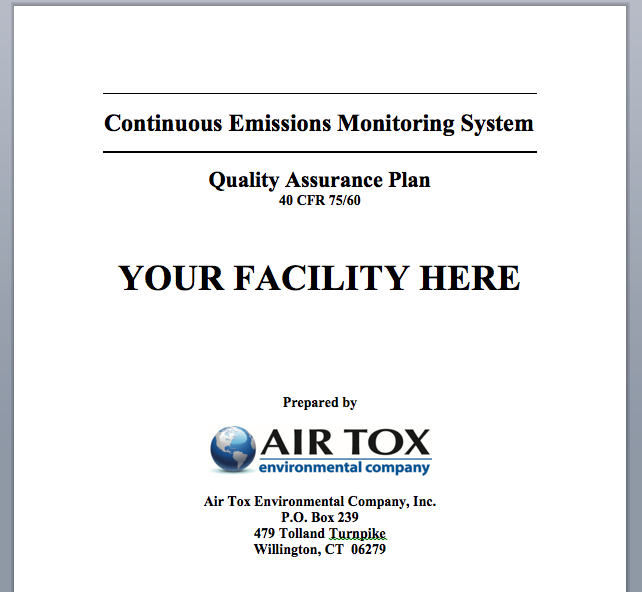 Handy Checklist for you Annual QAQC Plan Review
As required by both 40 CFR 60 and 75, each facility must perform an annual review of their Quality Assurance Quality Control document. With the halfway point of the year quickly approaching, it is imperative that this process is not overlooked. There are a variety of things that need to be taken into consideration when performing this yearly review. Outlined below are items that should be investigated and confirmed in order for the QAQC plan to reflect the most accurate and up to date facility information.
CHECKLIST:
Monitor Information

Were any monitors replaced in the past year?
Were there any certification events in the past year?
Did the range change on any monitor?

Limits

Were there any changes to the permit operating limits?
Were there any changes to the procedure in documenting and reporting excess emissions or downtime? (report format, etc)

Data Channels/DAHS

Were there any data channels added to the DAHS?
Were there any calculation changes to a channel? (especially one used for compliance)
Did the data acquisition system itself change? (i.e. provider)

QA procedures

Any changes to audit procedures and schedule?
Any changes in staff duties and responsibilities?

Maintenance/QC procedures

Were there any changes to calibration procedures? (how they are performed both manually and automatically)
Changes in preventative maintenance procedure? (daily, weekly, quarterly?)
Changes in corrective action procedure?
Changes in spare parts list/inventory?
Other things to consider:
Regulations

Any new regulations that affect how your facility operates?

Basic facility info

Were there any changes in address, contact info, owner info?

Forms

Any new forms/documentation that the facility uses for QAQC purposes?
If this checklist is followed and appropriate updates are incorporated into the QAQC plan, your yearly review will be a success. If you would like assistance of any kind in the review process, Air Tox has considerable experience in performing these for a wide range of facilities. Contact us here.